How to Backup Zimbra User Account to Cloud/Desktop Accounts?
Zimbra_Admin
| Uncategorized | 4
minutes read
| Last updated on February 18th, 2022,
Are you finding a method or technique for Zimbra desktop backup but unable to get the precise solution or finding hard to trust any tool! If yes, then you are at right segment. The following write-up has provided best way to backup Zimbra user account to multiple cloud/desktop apps without loss of data.
Zimbra is popular for the platform-independency functionality it possesses. One can access Zimbra email client on multiple platforms such as Windows, Mac and Linux. Moreover, it allows to create and manage multiple accounts in a single environment.
Zimbra is a Collaborative Server Suite that contains components of both client and server and desktop client. It is available in two versions – Open Source and Commercialised. Open Source edition of Zimbra is free to access and suitable for small-scale organizations without the requirement of Zimbra Support. Another one is Commercialised that is Network Edition, which is paid to access and suitable for large-scale businesses.
How Zimbra Desktop Stores its Database?
The default location where Zimbra Desktop stores all its data:
C:\Users\admin\AppData\Local\Zimbra\zd_backup
It is not an automatic process. In other words, Zimbra does not generate backup of any type of data on its own. This can be proved when you navigate to the folder of zd_backup, open it and you will find that no single item or file is available. It is completely empty as shown: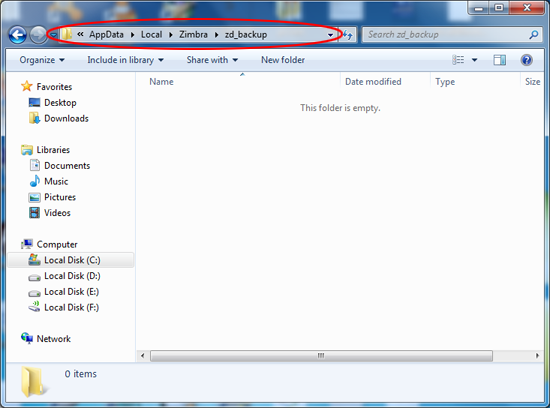 Thus, users need to create the backup of Zimbra account by using the below mentioned process:
Run Zimbra email client >> Navigate to Preferences >> click the option of Backups displaying on left side of the screen. Now, Configure Backups block will appear showing the entire lists of configured accounts. Choose the desired account for backup and hit Backup Now. Follow the same process for all the accounts that you want to backup.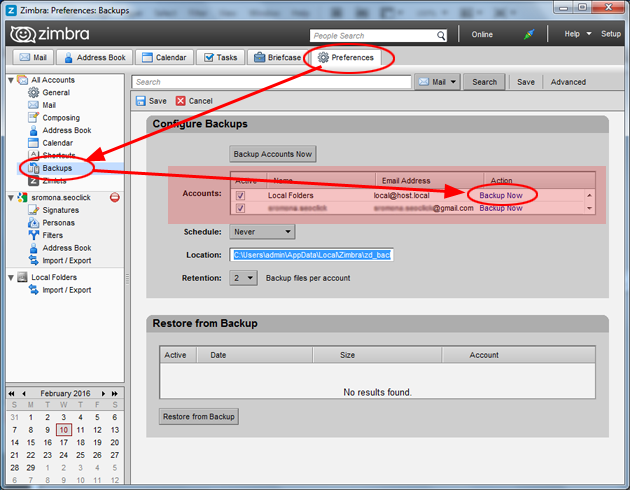 However, when you open zd_backup folder again, you will see the backup of Zimbra user accounts that will created in TGZ format.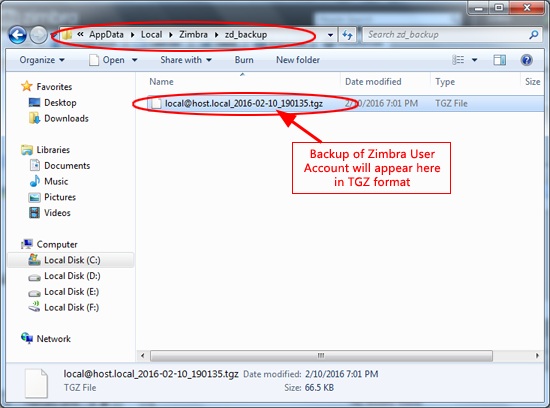 Alternate Method to Backup Zimbra User Account Database
With the above method implementation, one can access Zimbra emails, contacts, briefcase, calendar and other items of specific user account and save the same in TGZ file. An alternate method is also present which will help in extracting selective Zimbra items at desired location.
Open Zimbra >> Click Preferences >> Select Import/Export option from the list displaying on left side of the email client. Export block will appear on the right pane. Select the checkbox of Advance Settings and then choose the data types you need in TGZ file such as emails, contacts, briefcase, calendar, tasks etc. and hit Export button. Now, browse the location where you want to save account backup in TGZ and then click on OK.
Note: Repeat the process again for other Zimbra user accounts.
How to Backup Zimbra User Account to Multiple Cloud or Different Desktop Accounts?
TGZ files are Zimbra-supported file type that can only be recognized by Zimbra email application. If anyone tries to open it in any other email account, then he has to face an error. The software allows to backup Zimbra user account to O365, Exchange, Gmail, G Suite and more. To perform the process, reliable and secure Zimbra backup Tool is available with the help of which a user backup Zimbra user account to desired account with 100% accuracy. Follow the steps carefully and check how to backup Zimbra account to cloud:
Step 1. Download and open Zimbra Backup Tool on Windows OS.
Step 2. Go to Select File(s) >> Use Select File/Select Folder button to load TGZ files.
Step 3. Tool start to scan TGZ file, extract and display all its included data items with checkboxes on the left side of the tool. You can choose them as per need for selective backup Zimbra user account. You can right-click on the desired file loaded and discard the non-required one by right-clicking on the same and choosing Close File(s) or Close All option.
Step 4. Click on the loaded folder whose data you want to view in Preview window.
Step 5. Press Export and choose any cloud option in which you want to backup Zimbra user account database like O365, Exchange, G Suite, Gmail and more. Then click on Next.
Step 6. Enter the login details of particular chosen cloud account, set date filters and hit Export button.
Note: If you backup Zimbra user account to Desktop email text format, then you do not need to enter login details. The software will show different options that can applied on a file to get the desired outcome.
Step 7. After software finishes the process, a message will appear on the screen "Conversion Completed Successfully". Click OK to Exit or click on Save Report button to save the conversion summary report at desired location.
Conclusion
The segment has discussed a reliable and recommended method to backup Zimbra user account to cloud and multiple desktop formats. Use the FREE DEMO of Zimbra Backup Tool that allows to backup first 20 files from each user account TGZ folder and allows to move them into desired account free of cost. It is added by experts so that one can check the working process, operational steps and features before buying the license key. It is suitable for both technical and non-technical users.