Zimbra to G Suite Migration Tool to Migrate Zimbra to Google Apps, G Suite Accounts
Zimbra_Admin
| Uncategorized | 5
minutes read
| Last updated on February 18th, 2022,
Are you searching a way out for migrating Zimbra to G Suite, Google Apps? No worries, the article will provide Zimbra to G Suite Migration Tool with the help of which you can migrate Zimbra mail to G Suite with attachments and other items. The Zimbra Mail Converter offers trial edition for evaluation and analysis purpose. It enables to migrate 20 Zimbra files to G Suite free of cost and allows to understand the software working before purchasing the license key.
Overview – Zimbra vs G Suite
Zimbra is a popular and widely used open-source email exchange service which provides the flexibility to access its mailbox and email account in both online and offline mode. Zimbra is a cross-platform application, which is compatible with Windows, Mac and Linux. It can easily work with many email systems and quickly synchronize its emails, contacts and calendar data between user's mailboxes saved in cloud or local data stored in computer disk.
G Suite is designed by Google, it is a package of cloud computing, productivity and collaboration tools. G Suite consists of Gmail, Drive, Docs, Contacts & Calendars for businesses. It possesses several aspects and facilitate users in multiple domains:
Connect – Allows to connect with colleagues easily by making use of Gmail, Google Plus, Calendar, Video Conferencing/Hangout.
Create – It will help in creating the projects received from organization or college. This can be done by utilizing G Suite applications such as Sheets, Docs, Slides, Sites, Forms, App Maker etc.
Access – Facilitates to retrieve data from any location and at any time in seconds. This could be done with other G Suite Apps such as Drive/Google Cloud Search.
Control – With G Suite app, one can manage users, data & devices quickly and in an easy way. By using the option of Admin with Archive Tool, one can easily Archive, Search or Export details.
G Suite carries number of advantages and these are the few main reasons that force Zimbra users to switch onto G Suite account. Let us understand the migration process in a more clear way by highlighting a user queries:
I have installed Zimbra in Ubuntu 10 server. My Zimbra can easily perform the process of sending/receiving emails within Zimbra server, I mean only Zimbra user. I want to now synchronize my Zimbra emails with Google Apps due to organization need, as I have to access some of the Zimbra emails in Google Apps profile. Please provide me suggestions so that I can get help and retrieve my Zimbra mailbox in Google Apps/G Suite account.

My organization was using Zimbra Desktop but after listening a lot about G Suite, my company's director asking to move entire Zimbra account on G Suite. It is more advance and reliable in terms of security. Also, provide lot of features that are beneficial for our organization. But, it is not easy as we think. Many essential emails of Zimbra are stored locally which the company requires for their work purpose. And here, we are stuck in a situation where we do not know how to transfer Zimbra database to Google Apps. Please suggest any solution for the same!
Plethora of users are switching their account from Zimbra to G Suite and looking a solution that can help them in copy their Zimbra data to G Suite in a precise manner.
Therefore, after reviewing all such user requirements, Zimbra to Google Apps Migration Tool is designed which offers a direct way of migrating Zimbra to G Suite account. It provides smooth and effortless functioning for moving Zimbra mails to Google Suite profile. Follow the steps of software working and check out how to perform Zimbra folder to G Suite migration.
Zimbra to G Suite Migration – Step-by-Step Process
The working of the tool is very easy and simple to access. The trial version of the tool enables to migrate 20 mails from Zimbra to Google Apps free of cost. And, this could be used when you are having only 20 Zimbra files for conversion. In order to execute unlimited process, purchase of the license key is important. Follow the steps and understand how to migrate Zimbra to G Suite:
Step 1. Download, launch and open Zimbra to G Suite Migration Tool on the system.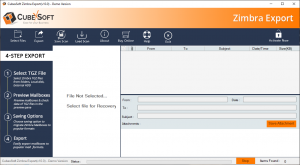 Step 2. Click on Select Files button and load desired TGZ file/folder for migration on the software pane.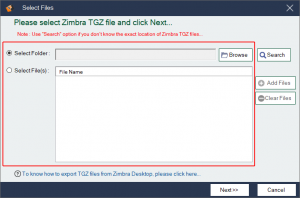 Step 3. The application start analysing the TGZ zip file.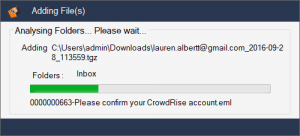 Step 4. The tool extract its entire items and display all of them on the left software screen. Click on the desired folder to view the data of the file on Preview window.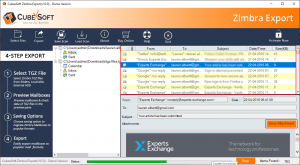 Step 5. Press Export and choose the option of Export to G Suite.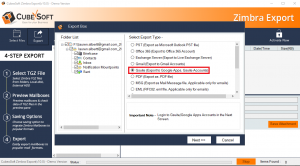 Step 6. Enter the login details of G Suite account and click Enter. Software start authenticating the provided ID and display the green tick after getting approved. Click Next.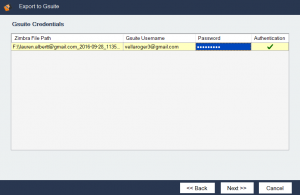 Step 7. Apply the date filters by entering range in From and To and click Export.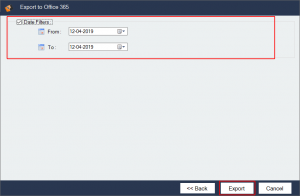 Step 8. Now, the tool shows progress report, displaying File Name, Size, Item Count, Duration and Status.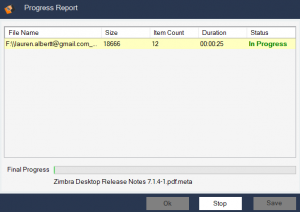 Step 9. Once the software completes the process, a message will appear on the screen "Conversion is done". Click on OK to finish the process.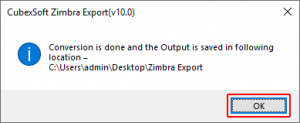 By utilizing the steps, one can easily understand the software functioning. Even, technical and non-technical users can quickly implement the process with the help of the tool.
Features of Zimbra to G Suite Migration Tool
The application offers many benefits to users, which helps in maintaining adaptability, data fidelity and easy migration of Zimbra mailbox to G Suite. Some of the interesting features of the tool are:
Includes simple and user-friendly working GUI, which is accessible instantly by both technical and novice users.
Helps to directly migrate Zimbra folder to G Suite without an error. The app only requires the login details of G Suite account and the tool will quickly move Zimbra to desired profile.
Preserves email components and folder structure during Zimbra to Google Apps migrations.
Provides the support of batch export for speedily migration.
Capable to migrate Zimbra to Google Suite without the limitation of file size.
Move Zimbra mails to G Suite with attachments with no loss of data.
Run Zimbra to G Suite Migration Tool without installation of Zimbra application.
Download and operate the software on all earlier and latest Windows OS.
Advance Search facility to search the required TGZ file for migration.
Conclusion
Number of users wants to instantly migrate Zimbra to Google Apps and this can be quickly executed by utilizing advance and reliable Zimbra to G Suite Migration Tool. The application is programmed by expertise after reviewing the user needs. It is a utility, which provide efforts in delivering 100% satisfied outcome. Moreover, it is recommended to use the free demo of the tool first, after receiving successful result, purchase the license key.