Zimbra to Office 365 – Guide for Direct Zimbra to O365 Migration
Zimbra_Admin
| Uncategorized | 4
minutes read
| Last updated on February 18th, 2022,
Thinking of migrating or importing Zimbra to Office 365? If yes, then the blog will surely help you out and provide an appropriate Zimbra Mail Converter solution to do the required task!
Moving emails from one account to another is quite a complicated process. The entire procedure of migrating Zimbra to Office 365 requires proper strategy and implementation. Because, if it has not been followed correctly, one could end up with data corruption/data loss. Zimbra and Office 365 are the application, which are known worldwide and most used emailing programs for sharing and managing data between users. The applications save the data locally and need the connection with server for exchanging information.
As there is no direct/manual solution is available for Zimbra to Office 365, therefore it is important to adapt expert solution to complete the migration process successfully. By utilizing Zimbra to Office 365 Tool, one can move Zimbra mailbox folders to Office 365 account. Download and launch the application and directly export Zimbra to Office 365 with emails, contacts and calendar without loss of data.
Solution to Move from Zimbra to Office 365 Account
Zimbra to Office 365 Tool is well suited for the users who directly wants to transfer Zimbra data to Office 365 profile. The application is easy to use, is equipped with simple and quick operational steps, and is designed according to the requirement of both technical and non-technical users. The Zimbra to Office 365 is capable to export unlimited TGZ files/selective TGZ files that are extracted from Zimbra app to Office 365 at one time without affecting the data originality.
Another remarkable functionality that Zimbra to O365 carries is the capability of importing Zimbra emails, contacts and calendar to Office 365 account. The tool is reliable and cost-effective and enables to carry out the data migration accurately. Moreover, the folder structure remain intact throughout Zimbra to Office 365 conversion.
Step-by-Step Process to Migrate Zimbra to Office 365
Step 1. Download, Install and run Zimbra to Office 365 Tool on the system.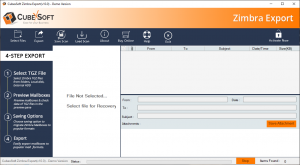 Step 2. Click Select File(s) button to load TGZ file/folder on the software panel.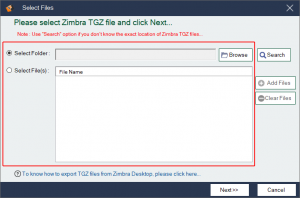 Step 3. Now, the tool will immediately start the scanning process and automatically extracts the entire Zimbra items and display them on the left software screen.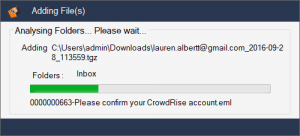 Step 4. Select the required folder to view the data of its files in Preview window.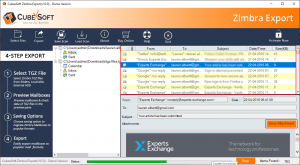 Step 5. Hit Export and choose the option of Office 365 from the given choices.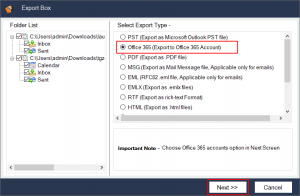 Step 6. Select I am Admin option if you are having Office 365 admin account.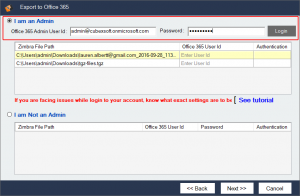 Step 7. Choose I am not Admin option if you are having a user account in Office 365.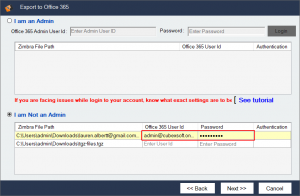 Step 8. After selecting the desired option and entering the required details, software will authenticate the user ID and then allow you to proceed.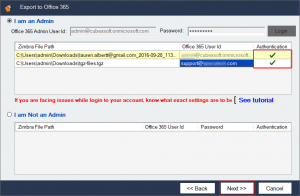 Step 9. Apply the date filters in order to perform selective process, if needed.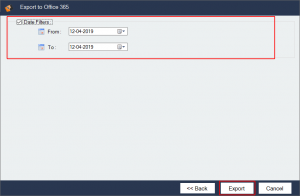 Step 10. Click on Export once done with all the options. Software will immediately start the process and shows every detail about the conversion like current file progress, item count, size, status etc.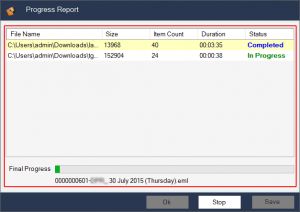 Step 11. Click OK after getting the message on the screen "Conversion is Done".
By utilizing the steps, you can instantly and directly transfer the entire Zimbra mailbox items to Office 365 with exact email attributes and folder structure.
Overview of Zimbra and Office 365
Zimbra is an open-source desktop as well as web-based email client. A program that is compatible with multiple OS such as Linux, Windows and Mac OS X. Zimbra works an information manager as it delivers the support for managing contacts, briefcases, notes, tasks, calendars etc. MS Office 365 is a cloud version of Microsoft Office Suite. It includes same products as desktop-based MS Office Suite such as Spreadsheet, Outlook.com, OneDrive, PowerPoint etc. Every detail of a user will get stored in the cloud when using Office 365 app. Moreover, now many organizations want to keep/store the data on cloud-based program such as Office 365.
MS Office 365 is a subscription-based productivity app. It provides additional subscription option. In order to manage the data of small and large businesses, purchase the subscription of Office 365. With this, one also get additional subscription for e-mail services and social networks through hosted version of MS Exchange Server, SharePoint and more. If Office 365 is offering something extra, then one should surely take the benefit of the same. Some main advantages are:
Benefits of using MS Office 365
Full Protection – Office 365 provides unmatched security features including threat analysis, encrypted email etc.
Flexible – Office 365 users can access its emails, documents, contacts and other data from any location and anytime.
Precise Package – Offers services such as Web Apps, online portals, voice/video conferencing, web conferencing, integrated and email messaging.
No Additional Cost – Users do not have to pay extra costs for software upgradation.
Technical Support – Delivers telephonic support services, chat support etc.
Why to Convert Zimbra to Office 365?
All users carries different reasons for transferring Zimbra to Office 365. And, Zimbra to Office 365 is a solution for every problem. There are two main reasons due to which users want to migrate Zimbra to Office 365:
Slow responsive and synchronization process.
Proper configuration of user account is needed.
Conclusion
In the following write-up we have discussed a solution for migrating Zimbra to Office 365. It is a proficient way for directly moving Zimbra folder to Office 365 with emails, contacts and calendar. The application offers perfect platform to transfer Zimbra database to Office 365 account in a bulk at one time with no data loss. So, quickly download Zimbra to Office 365 Tool on any Windows OS and analyse the functioning of the tool on your own by converting first 20 files from Zimbra folder to Office 365 profile free of cost.