Zimbra to Exchange Migration Tool to Migrate Zimbra to Live Exchange Server 2010, 2013, 2016
Zimbra_Admin
| Uncategorized | 4
minutes read
| Last updated on February 18th, 2022,
In the write-up, one will get to know about how to migrate Zimbra to Exchange. There are number of users looking for Zimbra to Exchange Migration Tool to migrate Zimbra mails to Exchange account. Make use of an appropriate Zimbra Converter app and quickly migrate Zimbra to MS Exchange without facing a single trouble.
Solution for Zimbra to Exchange Migration
Several users are searching a way for migrating Zimbra to Exchange Server account. You can easily and directly perform Zimbra migration to Exchange by entering the desired MS Exchange Server details such as server name, domain name, username and password. The software read TGZ file, which is extracted from Zimbra desktop and then migrate the same to Exchange with accurate email attributes and other formatting properties.
Migration of Zimbra mail to Exchange environment is not easy. The entire process requires proper planning as it includes batch conversion of multiple mailboxes of Zimbra user to Exchange. Therefore, a direct technique is carried out by the experts i.e. Zimbra Converter. A complete software that provides saving option i.e. Export to Exchange Server, with the help of this, one can directly move Zimbra mails to Exchange Server. The best thing about the application is that it does not carry the hectic process of transferring Zimbra to PST and importing the same to Exchange Server. It is a direct one to one solution.
Complete Steps of Migrating Zimbra to Exchange Server
Zimbra to Exchange Migration is installable on all versions of Windows OS. At first, it is recommended to try the free demo of the tool and migrate first 20 Zimbra mails to Exchange free of cost. By doing this, you can analyse and review the software processing before the final purchase of the tool. Follow the steps and migrate Zimbra to MS Exchange Server in few clicks:
Step 1. Download and open Zimbra to Exchange Migration Tool on the system.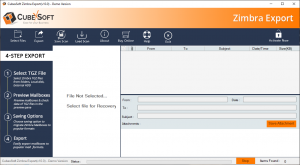 Step 2. Hit the button of Select File(s) and load Zimbra TGZ file/folder on the software panel.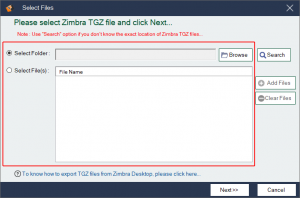 Step 3. The utility will quickly start scanning the TGZ zip file.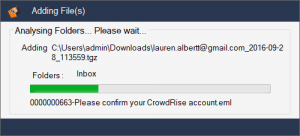 Step 4. Display all the items on the left software screen. Click on the folder whose file you want to view and utilize Preview window for the same.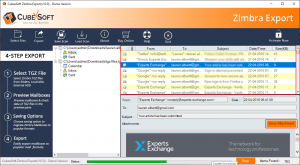 Step 5. Go to Export button and choose Export to Live Exchange Server option.
Step 6. Enter the Exchange Server details accordingly. If you are having admin account of Exchange Server then you need to make sure that your account is impersonated. In order to move all Zimbra mailboxes, it is recommended to use admin account of Exchange.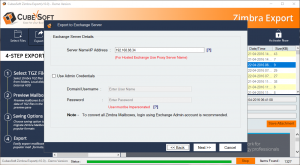 Step 7. Apply the date filter and provide the required date range for selective migration and click Export.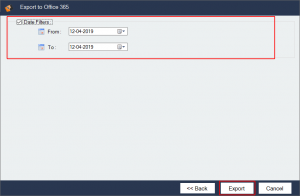 Step 8. Software will start the process and shows the migration status windows that include File Name, item count, Size and Duration.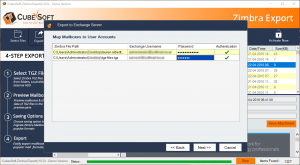 Step 9. Once the software completes the process, a message will appear on the screen "Conversion is Done". Click OK to finish the task.
By executing the steps, one can instantly migrate Zimbra to Exchange Server.  The process carries simple and easy migration steps to move Zimbra user mailboxes to Exchange environment. It is a software, which has discarded all the limitations and provides direct option for performing the same. The software requires few details of Exchange Server and the tool will start transferring Zimbra to Exchange without any trouble.
Benefits of Zimbra to Exchange Migration Tool
The software delivers many features that are reliable and useful for precise migration process. Some quality features of the tool are listed:
Batch migrate Zimbra to Live Exchange account in seconds.
Directly move TGZ zip folder to Exchange without TGZ file extraction.
Quickly accessible by both technical and non-technical users.
Maintains the accuracy of Zimbra mails after migration process.
Operable on all the versions of Windows OS including Win 10.
Capable to migrate Zimbra account to Hosted Exchange Server.
Allows to transfer unlimited Zimbra mails to Exchange environment.
Manage mapping of Zimbra mailbox with Exchange Server.
Dual modes available for loading required TGZ file/folder.
Supports the entire range of Exchange Server editions including Exchange 2016.
Last Words
The article has highlighted a solution for migrating Zimbra to Exchange. Lot of techniques are available but they are not direct and requires technical skills to implement the process manually. Therefore, experts has designed Zimbra to Exchange Migration Tool, which enables to migrate Zimbra mails to Exchange Server with attachments in a direct and accurate way. Download the freeware edition of the tool and understand the software processing by migrating 20 Zimbra mail files to Exchange Server/Hosted Exchange Server.