Exchange 2010 Database Corrupted – How to Repair?
Zimbra_Admin
| Uncategorized | 3
minutes read
| Last updated on February 18th, 2022,
Microsoft Exchange Server has developed professional email communication in organizations. Now, the task of sending/receiving communication or data has become more appropriate and stress-free regardless of the size of the business.
To keep messages completely safe, Microsoft launched heaps of features in Exchange. Numerous threats are still out there that can easily damage the stored database. Such threats can cause database corruption and later result in file inaccessibility. Some main common reasons of database corruption are as listed:
Virus Threat
Sudden Shutdown
User Error
Malfunctioning of Application
Database Objects error
Inappropriate changes in database schema
No worries, there are two methods available that can help in repairing the Exchange database corruption and allows to export the same into Outlook PST.
Method 1. Using Eseutil Utility
Method 2. Automated EDB Repair Software
Method 1. Use of Eseutil Utility
Eseutil is an Exchange Server inbuilt tool that helps to repair corrupt databases. The utility defragment them, ensure database integrity and reduce the size.
The default path of Eseutil in Exchange is:
C:\Program Files\Microsoft\Exchange Server\V15\Bin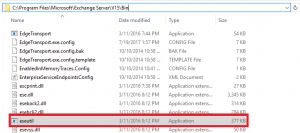 Eseutil provides large functional aspect, one can execute the below actions by using multiple switches:
For Exchange database repair – eseutil /p
For database defragmentation – eseutil /d
For database restore – eseutil /r
To ensure database checksum – eseutil /k
To verify database integrity – eseutil /g
For hard recovery – eseutil /c
For displaying headers, logs or checkpoint files – eseutil /m
For copying database & log files – eseutil /y
How to Use Eseutil for Database Defragmentation?
Before starting the defragmentation process, one need to keep the backup of database in case if misshapen occurs.
First, use below command to dismount Exchange database.


Run command: eseutil /d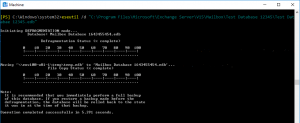 Once eseutil command successfully runs, mount database back to MS Exchange.


Use eseutil /p command for database repair.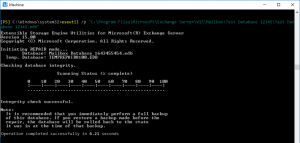 At last, run command new-mailbox repair request to fix database errors.


Run the command multiple time to remove all present errors in Exchange DB.
Method 2. Automated Solution for Exchange 2010 Database Corrupted Error
Exchange EDB Recovery is a strong, cost-effective and secure EDB to PST Tool that can completely restore corrupt Exchange database by extracting mailboxes, even if they are deleted. The application has simple GUI and quickly accessible by any technical and non-technical users. In few steps, it completes entire recovery process with 100% accuracy. Follow the steps and check how to fix corrupted Exchange 2010 database in a trouble-free way:
Step 1. Download and run the software on the system.
Step 2. Click on Add File button and load damaged/corrupted EDB file.
Step 3. Select required folder to get a preview of associated data.
Step 4. Click Export and choose PST to export EDB to PST.
EDB Repair Tool is a four easy step process that immediately repair corrupted Exchange 2010 database and allows to move the same into desired file type. A user can use the free demo of the application that facilitate to export first 25 files from EDB mailbox to Outlook free of cost.
Conclusion
Both Eseutility and automated third party solution are helpful in repairing and recovering corrupt data folders of Exchange. However, Exchange Server is more capable in handling all type of corrupt Exchange files, whereas Eseutil only checks Exchange Database health and not guarantee complete recovery. So, it is recommended to make use of EDB Recovery to handle Exchange Server issues in correct manner.