Know How to Export Emails from Thunderbird to Hard Drive and Cloud Servers
Zimbra_Admin
| Uncategorized | 6
minutes read
| Last updated on February 18th, 2022,
Creating a backup of emails and other database is something that is required by Thunderbird users on many occasions. The main idea behind exporting Thunderbird database to any other platform is to protect them from uncertain virus attacks, file corruption and hard drive disasters. There are various situation occur in day-to-day life which are not supposed to be happened or assumed at the beginning. For instance, if your machine got a physical damaged then you are not able to access your Thunderbird mailbox. In such situations, if you had exported Thunderbird files to any external or cloud device then you can extract the files back to your new machine. However the task of exporting Thunderbird files to any other platform is not an easy task. It needs proper planning to execute such backup process. Now you don't need to worry more as we are here with a bundle of solution that helps you to export all Thunderbird mails to Hard Drive and Cloud Server effortlessly. So keep reading this blog till end and choose the solution which suites you in better way.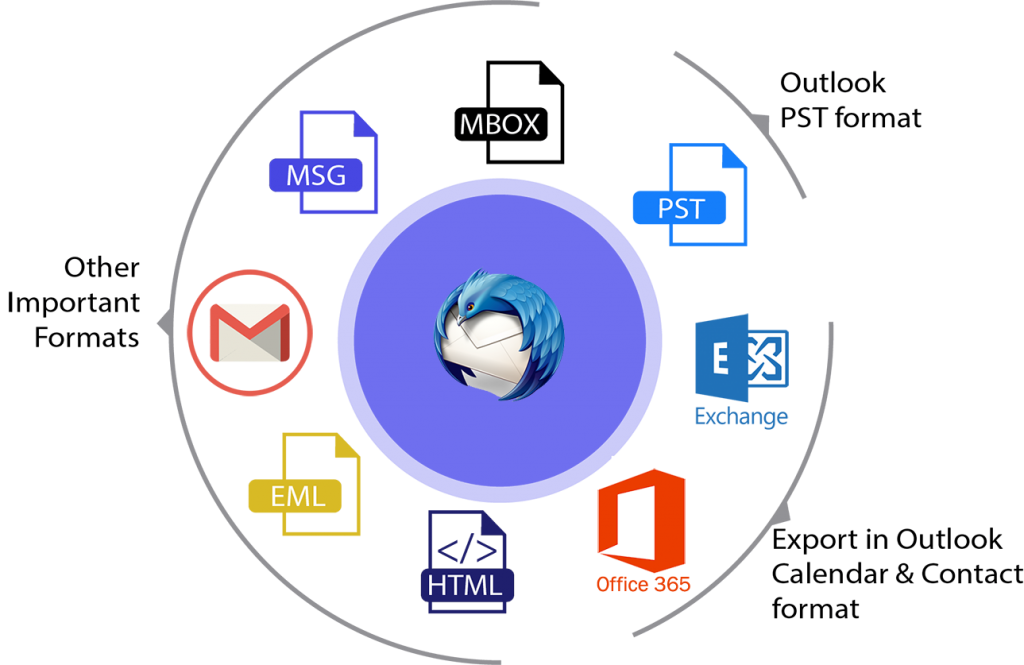 Mozilla Thunderbird – A Brief Overview
Thunderbird as we all know is one of the most popular email application that support transfer of emails for free. The free service provider is developed by Mozilla Foundation. Mozilla Thunderbird also provide storage to save personal info such as contacts, calendar, task etc. All these services can be accessed through utilisation of Add-ons. Thunderbird support and save files in MBOX file format. In the year 2012, Mozilla suspend further manufacturing of Thunderbird and do not welcome new users. Now it needs proper maintenance and engineering service to manage database in Mozilla Thunderbird. The maintenance cost is too high and not all the users can afford it. This is one of the main reason why users' needs to export emails from Thunderbird to Hard Drive and Cloud.
Instant Solution

In this fast moving world all we need is a quick solution giver to solve our problems. Thunderbird Converter is such an amazing time saver utility that helps to save, migrate, export all Thunderbird database to any Hard Drive (PDF, PST, HTML, EML, MSG etc.) and Cloud Server (Office 365, Exchange Server, Gmail, G Suite, Hotmail etc.) in precise form. Download the demo version of Thunderbird Converter to move up to 20 mail items per folder to any file formats for free of cost.
Export Emails from Thunderbird to Hard Drive
There are various solution available on search engines to export emails from Thunderbird to Hard Drive. Here we explain some of the methods which move your emails from Thunderbird to PDF, EML, HTML, CSV and many other hard drive supported file formats.
Alert: We recommend you to take backup of all the Thunderbird mails which you are going to export through this method and then follow below mentioned steps.
Step by Step Explanation to Export Thunderbird Mails to Hard Drive
Step 1: Run Mozilla Thunderbird in your Windows Machine.
Step 2: Next click the "Display the Thunderbird Menu" icon located at the rightward corner of the tool's interface.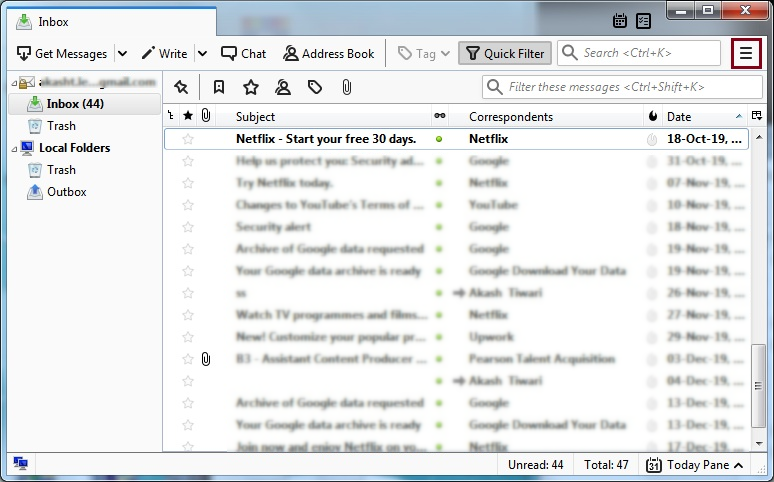 Step 3: Choose Add-ons and then again select Add-ons from the drop down menu. It will open a new Wizard within the Tools interface.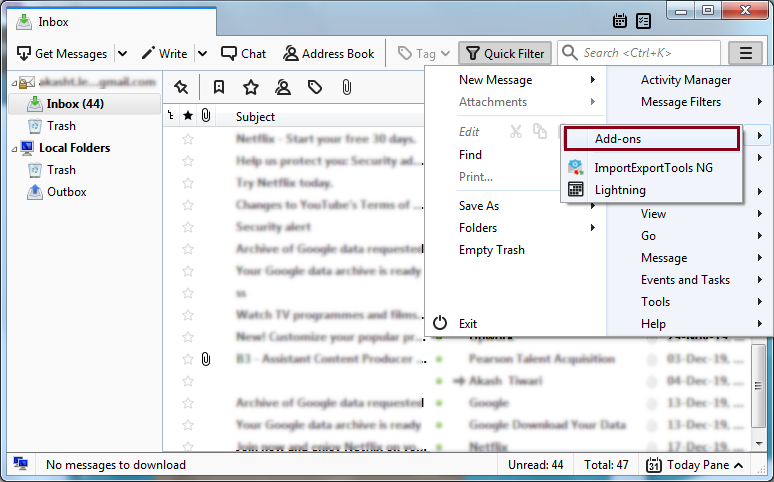 Step 4: Next press Get Add-ons button from the Add-ons Manager window.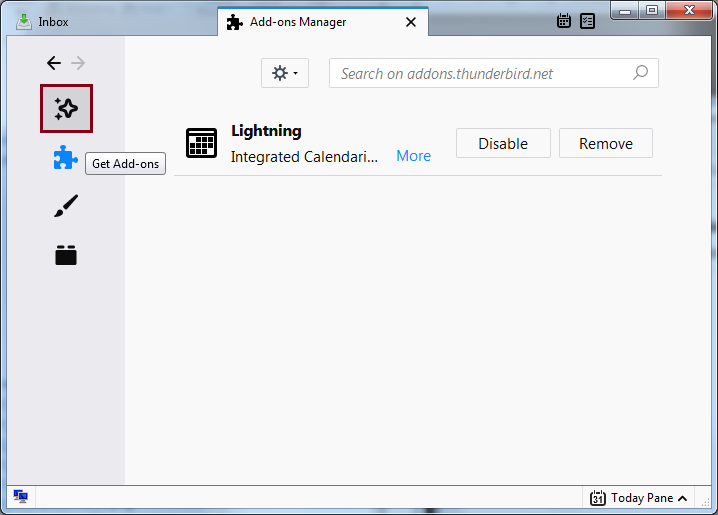 Step 5: In the next step you can either choose ImportExportTools add-on or click the Browse all Add-ons button and then search for the ImportExportTools add-ons.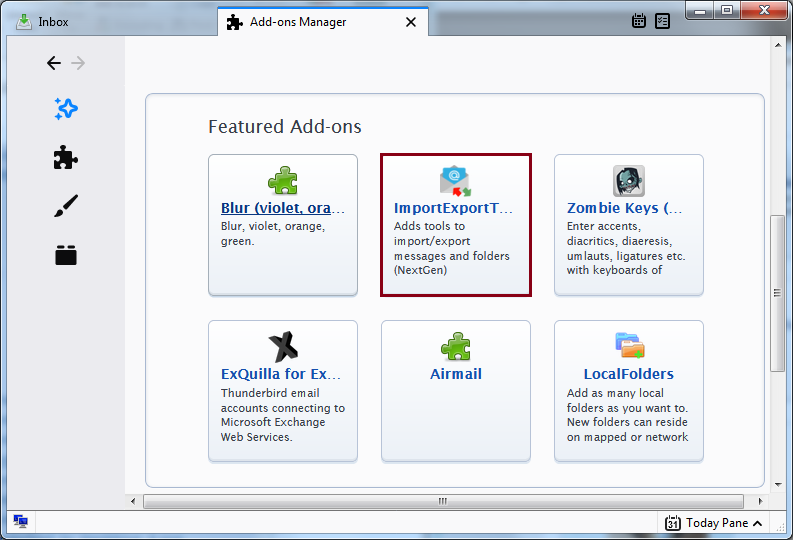 Step 6: Click the Add to Thunderbird button.
Step 7: Next click Install now button.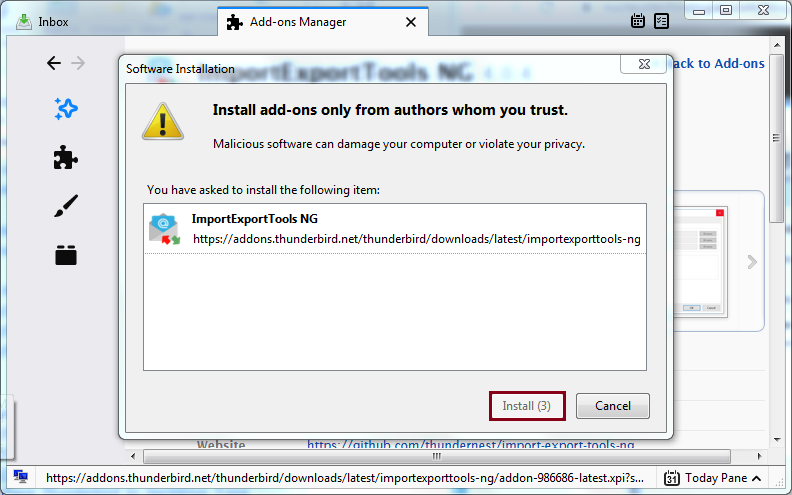 Step 8: After successfully installing Add-ons in Thunderbird, go back to Add-ons manager Wizard and press Restart now button to end the process.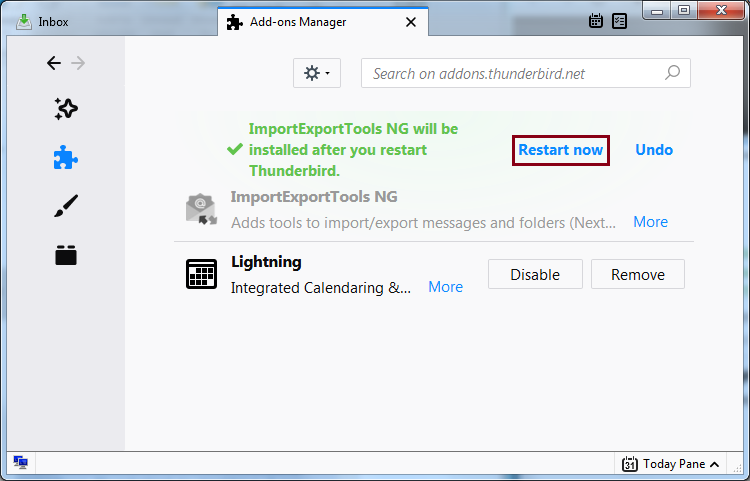 Step 9: Now Right-click the folder which you want to export and then select ImportExportTools>> Export all Messages in the Folders. Now you can choose any hard drive format in the drop down menu to move email from Thunderbird to PDF, EML, HTML etc.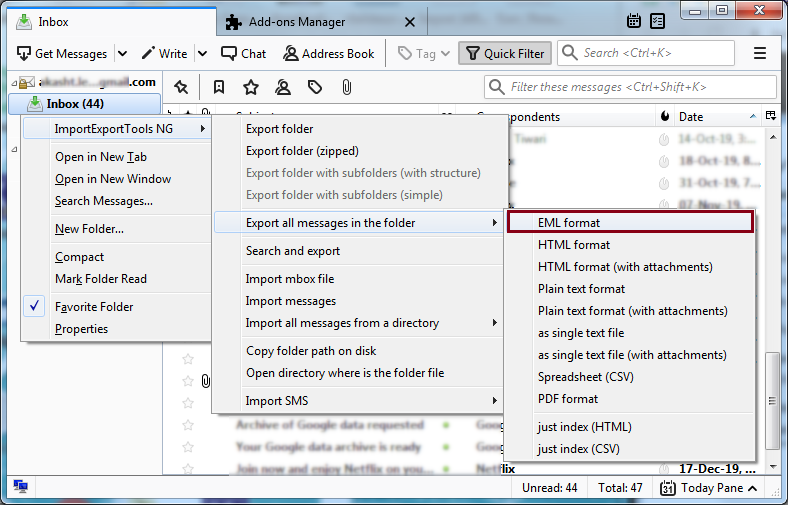 Step 10: Now select the location in which you want to save the export hard drive files and press Select Folder option.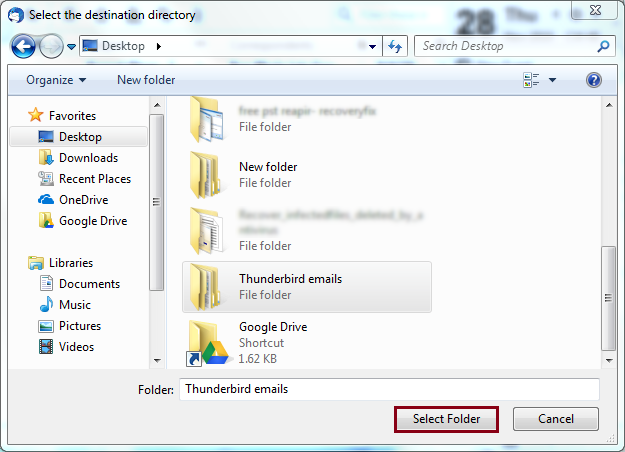 After following above mentioned steps you can migrate your Thunderbird files to PDF, PST, HTML, EML, MBOX, MSG and other hard drive formats.
Migrate Emails from Thunderbird to Cloud Server
In this section of blog we explain you the complete procedure of how to migrate mail from Thunderbird to Office 365 – a cloud supported email application.
Note: To migrate Thunderbird files to Office 365, you have to download "Microsoft Azure AZCopy Tool". So download the tool in your system and then follow below explained steps one by one.
Step 1: In the very first step, Share Outlook PST folder over the network.
Step 2: Install Microsoft Azure Storage Tools – You have downloaded from the Microsoft site.
Step 3: Launch the tool and get the unique URL and key for loading.
Step 4: Next use azcopy.exe to upload the PST files & folder.
Step 5: Now to create mapping file, use Microsoft's recommended format.
Step 6: Finally export PST files to Office 365.
Third Party Tool to Export Emails from Thunderbird Automatically
Till now, we have discussed two manual ways to export Thunderbird mail files to either Hard Drive or Cloud Server for free of cost. No doubt manual way is a free way to backup all Thunderbird mail but it also involves risk of data loss and file corruption. So it is better to use a professional third party utility i.e. Thunderbird Converter to export emails from Thunderbird to Hard Drive and Cloud Server. Thunderbird Converter works in very efficient manner and support to move all items such as contacts, calendar, task, briefcase etc. from Thunderbird to PST, PDF, EML, HTML, MSG, Office 365, Exchange Server, Gmail, G Suite, and many other file formats.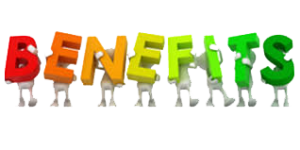 Thunderbird Converter supports to move multiple Thunderbird database to any file formats in just one go. You don't need to select each mail separately to move them to Hard Drive and Cloud Servers.
The time saver utility offer various advance filters such as to, from subject, date etc. By applying these filters, users can export only selective mails to their desirable location.
The advance utility also provide different file naming combination such as Date + Subject + From, Date + Subject, From + Date + Subject etc. to save the converted files into desktop.
Thunderbird Converter is capable to export all email attachments in precise form to all the file formats.
The efficient Thunderbird Conversion solution maintains all email properties while performing the conversion process. You will not find single distinction in folder hierarchy and email properties even after conversion.
Thunderbird Converter offers multiple file naming combination so that users can save the exported files in desktop according to their suitability.
The efficient tool offers various advance filters such as to, from, subject, date etc. for selectively backup Thunderbird mails to various file formats.
Thunderbird Converter has friendly graphical interface which can be handled by any professional and non-professional users without any difficulties.
The Tool supports all Windows Operating System including Windows version 10, 8, 7, 8.1, vista, XP etc.
How to Export Thunderbird Mail Files Automatically?
Step 1: Download and Launch Thunderbird Converter in your system.
Step 2: Choose either File Mode or Folder Mode to upload Thunderbird mail files into the software panel.
Step 3: The tool start showing preview of all the selected folder. Cross-check the selected files and make required changes.
Step 4: Next select Output option as per your need.
Step 5: Now apply advance filters and other required option according to your suitability. After filling all the vacant places click on Export button to start the conversion.
Step 6: At the end, a pop-up Windows opens with a message "Conversion Completed Successfully". Finally the software provide backup report which can be saved in CSV format.
Final Words
We hope after reading this blog you can easily export Thunderbird mail files to Hard Drive and Cloud Server. Here we discussed two method i.e. Manual Method and Professional method. You can choose either manual method or Professional solution Thunderbird Converter according to your requirement. If you want a risk-free solution with guaranteed backup then you should opt Thunderbird Converter. You can also try its demo version to understand the software more deeply. Thunderbird Converter is expert recommended solution which supports migration in multiple desktop supported file formats and Cloud Servers. Read the blog and make the decision optimally.