Zimbra to Thunderbird Tool to Migrate Zimbra TGZ to Thunderbird with Mails & Attachments
Zimbra_Admin
| Uncategorized | 5
minutes read
| Last updated on February 18th, 2022,
Get Zimbra to Thunderbird Tool to batch export Zimbra mail to Thunderbird with attachments at one time. Quickly download Zimbra to Thunderbird Tool on any Windows machine, a recommended and effective approach for migrating unlimited emails from Zimbra desktop to Mozilla Thunderbird within seconds.
These days, number of organizations exchange their information via e-mails. It is one of the trouble-free way for communication in business field. Sending/Receiving information through email is quick, easy, and less intrusive than a phone. And, most of the businesses ranging from small-scale to large-scale make use of email client to communicate across the globe. So, the enormous use of emails in the organization gave rise to the process of Email Migration.
Zimbra and Mozilla Thunderbird are the commonly used emailing programs and Zimbra to Thunderbird is one of the common migration issue that users are dealing with nowadays. Therefore, in the following blog we will be discussing about the solution and deliver best Zimbra Mail Converter Tool for exporting Zimbra mail to Thunderbird email app. Download the free version of Zimbra to Mozilla Thunderbird utility now!
Both Zimbra and Thunderbird are desktop-based applications that stores the related database on a local system and only requires server connection to send/receive information. Such applications are available in the market for free and easily accessible on multiple platforms such as Linux, Windows and Mac. But, now users are looking a way for migrating Zimbra desktop to Thunderbird. Because, there are plethora of reasons attached with Zimbra application due to which a user wants to switch onto a different platform. We will discuss about this later on, first let us understand how to export Zimbra mailbox to Mozilla Thunderbird.
How to Export Zimbra to Thunderbird?
Follow the steps and migrate Zimbra Desktop to Thunderbird with mails and attachments. Download the software and check out it's features and working.
Step 1. Download and run Zimbra to Thunderbird Tool on the Windows system.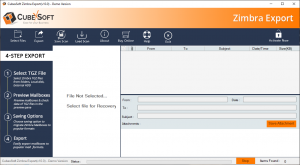 Step 2. Hit Select File(s) button to add TGZ file/folder for migration in Thunderbird.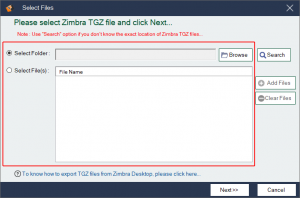 Step 3. Now, the tool start the scanning process and analyse Zimbra TGZ files. And displays all the items on the left side of the software.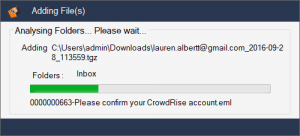 Step 4. Select the required folder from the listed items to view the associated data in Preview window.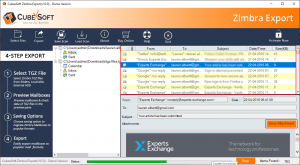 Step 5. Go to Export button, choose MBOX option from the list and set the destination path to save resultant fi.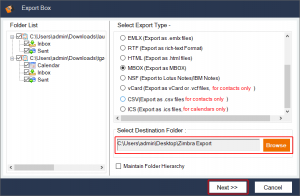 Step 6. Opt the option of Date Filters for select Zimbra to Thunderbird migration, if necessary.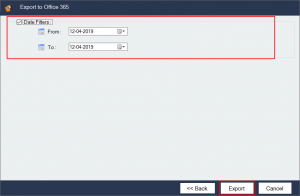 Step 7. Click on Export button to start the conversion of Zimbra mail to Thunderbird.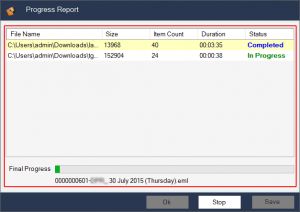 Step 8. The process will be finished with the message "Conversion is Done". Click OK and finish the task.
Advance Features of Zimbra to Thunderbird Tool
Batch Import Zimbra TGZ to Thunderbird
The application enables to export multiple files from Zimbra Desktop to Thunderbird at one time. Users are free to migrate entire Zimbra folder to required account in a single software processing without facing the issue of data alteration. This functionality will save users efforts and allows to save the time by implementing the process of batch migration.
Offers Preview Facility to View Zimbra Data
Once Zimbra to Thunderbird Tool extracts and adds TGZ file items on the software, now you can view the data of required folder by utilizing Preview window. Click on the checkbox of the desired folder and the tool starts listing its files on the right side of the software screen. Select the file from the same and the application will show its preview immediately. Moreover, you will Save Attachments option in the same section, you can use it if you want to save only the attached file of Zimbra mail and do not want to execute the whole conversion.
Preserves Data Integrity during the Process
Zimbra to Mozilla Thunderbird application maintains the data integrity of Zimbra mails after migration is completed. The little details present on the Zimbra mails such as bcc, cc, to, from, subject, time, date, hyperlinks, images and other properties remain accurate after the software completes the process.
No Limitation of File Size Exists for Migration
Zimbra to Thunderbird Tool smoothly handles the large size TGZ files in order to migrate Zimbra mail to Thunderbird. There is no limitation of file size as the tool is capable to perform the conversion of unlimited data of single TGZ file to Thunderbird at one time without damaging the content or data loss.
Allows to Save Resultant File at Desired Location
After choosing the desired file type to save Zimbra mail locally, the tool will then ask to set the destination path by clicking the Browse button. Once it is clicked, choose the desired location of the system where you want to save the resultant file. By using the option, you can easily access the exported file after migration.
Date Filter option for Selective Zimbra Migration
Date Filter is another remarkable property of Zimbra to Thunderbird Tool. You can set the date range by using the option of From and To and migrate only those Zimbra mails to Thunderbird with attachments.
Reasons Listed – Why to Migrate Zimbra to Thunderbird?
There are several reasons due to which users wants to move Zimbra Desktop mails to Thunderbird. Some of the common issues of Zimbra are listed below:
It has slow synchronization process.

Delivers slow response rate.

Complicated working interface.

Takes time in configuration.

Lacking in number of essential features.
These are some of the main reasons behind the question – why a user wants to import Zimbra mails to Thunderbird. Such issues pressurise those users to move onto a different application who wants to work in a quick speed.
The Last Words
In the write-up, we have discussed a solution of how to import Zimbra desktop to Thunderbird by making use of Zimbra to Thunderbird Tool. It offers a free download edition with the help of which, one can download the software and migrate first 20 Zimbra mails to Thunderbird with attachments free of cost.