EML to Zimbra – Tool to Import & Open EML Files in Zimbra Desktop
Zimbra_Admin
| Uncategorized | 4
minutes read
| Last updated on February 18th, 2022,
If you are looking a way out to import EML to Zimbra Desktop, ZCS (Zimbra Collaboration Server) and ZWC (Zimbra Web Client), then you are at the right place! The following blog is discussed with solutions that can help you out in viewing .eml files in Zimbra application with exact formatting properties and folder structure. But, before highlighting the EML to Zimbra conversion process, let's just understand scenarios that many users are dealing with these days.
Scenario I

I have moved more than 3k emails from Windows Mail to EML and then import them to Zimbra Desktop with attachments. I tried to move EML files to Zimbra but facing an error as Zimbra supports only TGZ file. If anyone knows any solution for opening EML messages in Zimbra, please recommend me, it is really urgent, please help!

Scenario II

I am using Zimbra application since two years and recently I have received some EML files from my partner. And now, I am looking a solution that can help me out in viewing the data of those files in Zimbra email client. Please suggest me a tool that can suit my needs!

Scenario III

Earlier I was having eM Client application and two days before I switched to Zimbra Desktop. But, now I am having a situation. Lot of important eM Client files are saved in my machine with .eml format that I want to view but don't know how? I am trying to open those files in Zimbra but an error is occurring again and again. Please help!
Issue –
Zimbra is a widely known desktop-based email client application which exports all its data items in TGZ file. And, it is a platform that does not support any format other than TGZ. Moreover, no direct way is available that can help to import EML files to Zimbra Desktop. So, experts came up with the idea of EML to Zimbra Tool.
EML to Zimbra – Advance Approach to Open EML Messages in Zimbra App
Use EML Converter Tool that supports the direct option of saving EML file in Zimbra Desktop, Zimbra Web Client and Zimbra Server. The application possesses remarkable working and interesting features that helps in executing the entire process without any data alteration. Download the free demo of the Tool now and follow the steps to import EML files to Zimbra application: –
Step 1. Download, install and open EML to Zimbra Tool on the Windows PC.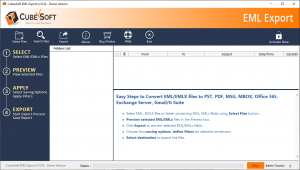 Step 2. Click Select File(s) button, a window will appear. Load EML files/folder by utilizing Select Files or Select Folder button.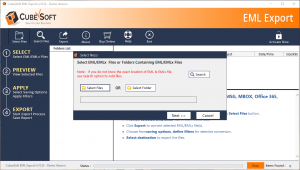 Step 3. Software start the scanning process and load EML folder on the left software window. Select the same in order to view its files in Preview pane.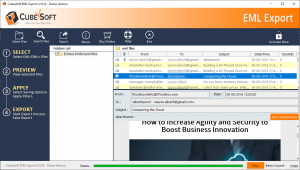 Step 4. Now, click on Export button and choose Zimbra as a saving option to save EML files into Zimbra.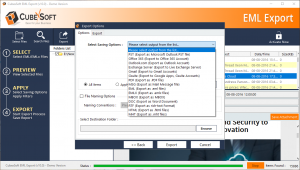 Step 5. Apply Date Filters and Attachment Filters as per need and click Apply button.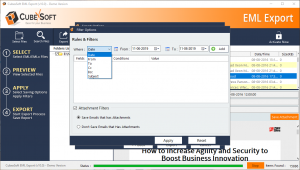 Step 6. The tool then quickly start the export process showing the complete conversion status and finishes it by displaying the message on the screen "Conversion is Done". Click OK to exit.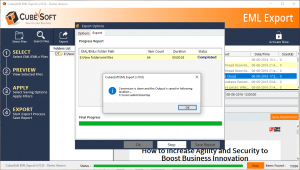 Important Features of EML to Zimbra Tool
Batch import EML Files to Zimbra at one time
EML to Zimbra is a strong email migration application that enables to migrate EML files in a bulk at minimal time. And, Select Folder is the option that delivers the functionality to batch export EML files to Zimbra in single processing. This will save users efforts and time.
Save EML to Zimbra with Attachments in Seconds
The task of the application is to import EML files to Zimbra entirely. This means, if EML file is carrying any attachments then it would also be transferred by the tool automatically in the same format. Moreover, the tool also provides the separate option of Save Attachments that can be used to save only the attached files of EML if a user do not want to implement the whole process.
Maintains EML File Data Integrity During the Process
EML to Zimbra Tool is a perfect application for those users who wants to open EML messages in Zimbra accurately. Apart from executing the batch conversion, the software has the capability of handling the included data file formatting properties. The information contained by each EML file will remain intact and safe throughout the process.
Avail Multiple Filters Option for Selective Process
EML to TGZ Tool is programmed with lot of features that help users in saving the file in more advance way. The application comes with new filter options for users ease of access such as email filters, date filters and attachment filters. These filters facilitates to move the required EML file with desired attachments without trouble.
Supports all EML Based Email Applications
There are number of applications that use EML extension for saving their email files such as Mozilla Thunderbird, Outlook Express, Live Mail, SeaMonkey, eM Client and more. And, EML to Zimbra is the tool which can import any EML supported email client files to Zimbra with 100% accuracy.
The Last Words
The EML to Zimbra Tool is a best way out for direct conversion of EML files to Zimbra Desktop. The application provides the free demo that allows to import first 20 EML messages to Zimbra TGZ format free of cost. Also, it is recommended to go for free edition first that can make you understand the complete software working and features free of cost. And, after getting complete satisfaction with its processing, then you can purchase the license key.